About Eveline Reinhard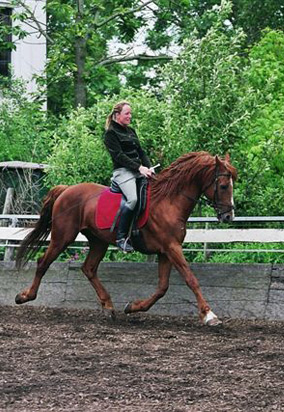 Education:
College: Italian Riding Institute under the supervision of Maestro Georgio Mereu Pes (Italy)
Instruction in western-riding (Deurne, the Netherlands)
Various courses and instruction on how to keep horses and teaching horse-riding.
A style of her own:
Eveline Reinhard gives lessons according to a method and style that she has developed. This style derives from her versatile experiences of horseback riding and from dealing with pony's and horses.
At present on of the things Eveline Reinhard is doing, is training her stallion Don Diego.
Don Diego is an Andalusische Cartujano stallion, who has always been ridden from the basis,
in style of the Italian riding institute.
In addition to this she is busy retraining a Corleone ruin, and breaking in of a few of her own bred young horses.
Besides this Eveline Reinhard also trains polo horses where the focus is on condition and manoeuvrability.